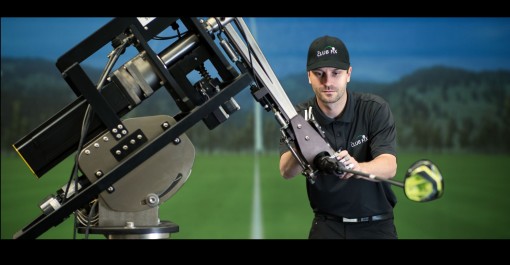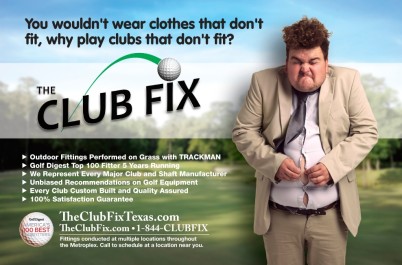 Today's Deal:

The Club Fix Outdoor Trackman Full Bag Fitting + Dozen Pro V1s, the #1 Ball in Golf!
Traveling for Business or Pleasure?
Check out these deals for Stay and Play Packages & Play Golf in Major Cities Across the U.S.!
View Travel Deals
More Deals
18-Holes in Rockwall at Buffalo Creek Golf Club!
3-Night Stay and Play at Treetops Resort with 3 Rounds of Golf in Gaylord, Michigan!
Description:
This is a private one-on-one outdoor full bag fitting with Trackman and 30,000 head and shaft combinations to optimize your golf game. The Club Fix represents every major manufacturer in golf equipment and offers a non-biased approach. Normally priced at $275.00, this 2 plus hour session will leave you feeling elated as you and your expert fitter figure out just what set up will have you playing your best golf. Find out if your existing equipment is optimal, or if your are missing out on big improvements. No smoke and mirrors, no marketing hype, the numbers don't lie!

Grab this special and pay only $99 to work through your whole golf bag and get optimized for your swing!! Update in the Fall and be ready for Spring '18 Golf!

Trackman Launch Monitor (Doppler Radar) will be tracking every golf ball you hit as their expert club fitter will evaluate your data, and get you the absolute best (non-biased) combination of equipment available in the golf world today.


Loft and Lie Measurements
Shaft Frequency (flex) Analysis
The custom club building service The Club Fix provides is the most important aspect of the company. The Club Fix represents every major golf club manufacturer, as well as the top performance shaft companies. Performance demo shafts have been pre-tested to determine the exact flex (frequency) and playing characteristics enabling precise fittings AND custom building. Each shaft and club head have a proprietary fitting system installed to allow complete freedom of choice to find the perfect fit. Using Trackman on the range, players are able to see ball flight, feel the difference, and have the Trackman numbers validate what works best. If you have great club heads and want to make sure the shafts are correct, The Club Fix offers retro shaft builds as well. With limited time slots available each day, reserve your session now!


Customer Testimonials:

"Hello Brett. Not only is my handicap down 4.6 strokes in the last month and trending down another full stroke with the next update I just got a hole-in-one this weekend.
Love my new clubs!!
Ray Farmer


"The guys at CLUBFIX exemplify every sense of "true-professionalism". The fitting session was extremely comprehensive, but efficient. I really appreciated my fitting expert (Brett Wright) taking the time to explain the metrics of my old set of clubs, and exactly how my game was being negatively impacted due to "factory" standards. CLUBFIX utilizes what the industry considers to be the best swing analysis tool on the market, TrackMan. In conjunction with TrackMan, Brett was able to quickly identify a couple of club head and shaft combinations that immediately produced (i) increased distance, (ii) improved ball-flight, and (iii) greater control. I must also mention that particular attention was paid to finding the right fit while taking my own personal budget in to consideration. Following the fitting session, my new set (Driver, Irons and Wedges) was in my bag ready to go within a week! Without hesitancy, I would recommend CLUBFIX to anyone looking to improve their game whether it be a new driver shaft or a full revamp of their bag".

Justin L. Walker (Dallas)

I recently met Bret Wright of Club fix and discussed my golf club needs. We talked about my game and the areas I felt I needed for improvement. I hit a few balls using the Trackman monitor and tried a variety of different shaft flexes. We then set up a time for a fitting session.Brett spent over three hours with me during this process. I worked through my bag from the wedges to the driver. Together we decided on the shaft best suited for my swing. The process was informative and fun. My new shafts are great. There was a brief adjustment period but the end result was excellent. I am very happy with my clubs .

I highly recommend Brett and Club Fix.
Ronnie Allen (Dallas)

Thank you Brett,

You answered every question and I couldn't be more satisfied. I think these clubs will be perfect. I realize I will need to play them to adjust. After all, my current set have been used for a couple years and I have manipulated my swing to accommodate them. My first swings with the 6 iron were awesome. I was giddy. Straight and longer. Thank you for the driver adjustments. I don't think I missed a single fairway today even without the tweaks. I played my best round ever (86) after playing this course only 4 times in the past 2 years . When I start with the new clubs ( omitting my 3 wood) and adjust the driver, I can see breaking 80 ( wow) with some putting lessons and/ or practice. I three putted 7 holes today.

Thanks again and I hope Texas continues to work great for you and your family.

Andy Anderson (Dallas)


Yardage Book:
Valid by appointment only. Call 1-844-CLUBFIX to Book
Fittings performed outdoors at The Tribute at the Colony and multiple course locations available across DFW. Will book preferred location at time of reservation.



Appts. available 8 am - Dark


Expires December 31, 2017
Limit 4 of each option per person; May buy up to 4 additional as gifts.
Cannot be combined with other offers, incentives, or events
Not valid for previously booked appointments
Golf Balls received at appointment



PRICE INCLUDES:

Outdoor Full Bag Fitting includes Driver, Long Game (Woods & Hybrids), Irons, & Wedges. +Plus receive a dozen Pro V1's.

Click here for more details.
Founded in 2010 and headquartered in Irvine California, The Club Fix has become a world leader in custom golf equipment with locations throughout the US and abroad. With an unbiased approach, The Club Fix is able to fit and then build the perfect clubs for each individual. Whether you are a man, woman, or junior, +5 handicap or a 25 handicap looking to upgrade your equipment or retro-fit your existing equipment with the correct shafts, come see what improvements true custom equipment can have on your game.

Accomplishments
Golf Digest Top 100 fitter last 7 years running.
#1 Custom Club Company worldwide.
Over 20,000 custom fittings with amateurs and pro's
PGA, LPGA, and Web.com professionals currently using clubs built by The Club Fix

Until you have played with clubs custom fit and custom built for your game, you don't know what you have been missing. The Club Fix will educate and enlighten you to what is right for your swing and help you get the most out of your game. Put us to the test and see for yourself!
The Club Fix
Appts. held at Tribute Golf
1000 Lebanon Rd
The Colony, Texas, 75056, US
Phone:

844-258-2349
Get Directions